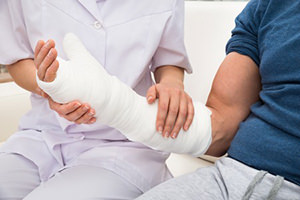 An avulsion fracture is when a small chip of bone attached to a tendon or ligament gets pulled away from the main part of the bone. While an avulsion fracture is generally very small, it can be painful and get in the way of your ability to work and carry out your day to day life. The good news is that most avulsion fracture treatment options do not include surgery, as the fractures often heal themselves. The bad news is this "wait and see" healing process is often very painful.  More serious fractures can require more complex treatment options, including surgery, so it is important to follow a doctors instructions carefully.
If you have suffered an avulsion injury and have lost time at work or had other expenses, contact us today at 888-804-5044 to speak an attorney or use our convenient online contact form to get in touch.
Common Avulsion Fracture Treatments Prescribed by Doctors:
As mentioned above, many avulsion fracture treatment options do not require surgery. With proper care and rest, your injury should heal properly. Read on to learn more:
Rest and Ice
According to the Mayo Clinic, the most common and often recommended avulsion fracture treatment is simply rest and icing the affected area. Until fully healed, those suffering from an avulsion fracture should avoid activities that could aggravate the injury. It is important to note that when an avulsion fracture heals from this treatment, it may still show up on future x-rays.
Cast Immobilization
For more severe injuries, the recommended avulsion fracture treatment may be cast immobilization. In this avulsion fracture treatment, a cast is placed on the fractured area for anywhere from four to six weeks. Doctors also recommend that this be paired with ice therapy, where ice is applied to the injured area for 20 to 30 minutes every three to four hours, or during times of swelling or pain. After immobilization, physical therapy is often undergone to help the patient regain full mobility and use of the injured area.
Surgery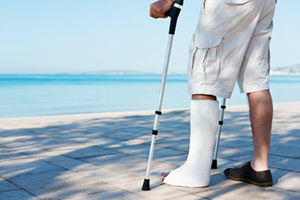 This type of avulsion fracture treatment is only prescribed in serious cases, such as when fractures occur in unstable areas or when tendon or ligament damage occurs. This type of avulsion fracture treatment can include placing wires, rods, pins, screws, or plates to hold the bones together. To replace torn tendons or ligaments, the surgeon sews the torn ends together, and often needs grafts to fully repair the injury.
This type of avulsion fracture treatment requires the longest recovery time and can be the most disruptive to your daily routine and work schedule.
Learn More About Legal Options if You Have an Avulsion Fracture
It is in your best interest to speak to a one of our attorneys to find out if you may be entitled to  compensation for your, medical expenses,  lost wages, or pain and suffering.