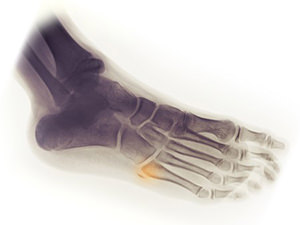 A foot avulsion fracture is a very common injury in both athletes and the everyday person. A foot avulsion injury commonly occurs in the 5th metatarsal and is often referred to as a "dancer's fracture". Often this is a very painful trauma that occurs with twisting, either inward or outward, to the ankle or foot. This twisting can result in either a foot avulsion fracture or an ankle avulsion fracture or possibly both.
If you have suffered an avulsion foot fracture, contact us today at 888-804-5044 to speak with an avulsion injury lawyer and to learn your options.
What is a Foot Avulsion Fracture?
Avulsion fractures occur when a muscle contraction during a trauma results in a ligament or tendon tearing off a part of the bone creating a bone chip in the damaged area. A foot avulsion fracture is slightly different in that it occurs almost always with a ligament causing the bone chip and usually only occurs in the joints of the toes, or the metatarsal bones of your foot.
A foot avulsion fracture is also more consistent than most avulsion fractures because it has a more common recovery time and treatment. Typically, the fracture can be healed within 6 weeks with possible physical therapy and generally just one of a few different treatments. These common treatment options include keeping the weight off of the injury and wearing a walking boot. There are times, however, that the foot avulsion fracture can be more severe and may need an extensive amount of rest. Most times this type of injury can be treated non-operatively, but in some cases, surgery with multiple checkups throughout the course of a year may be necessary. This is why it is important to seek medical council as soon as an injury occurs to learn the best course of action for your injury.
Seeing a Doctor About Your Foot Avulsion Fracture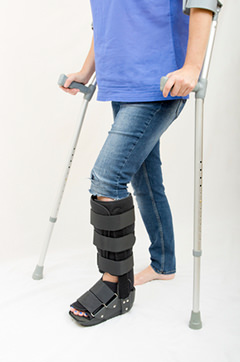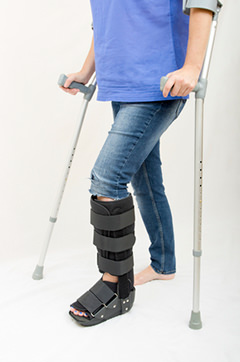 When visiting your doctor, it is important to accurately describe what you are feeling and ask as many questions as possible to get the quickest and best results for recovery. Signs of this trauma may include:
Localized Pain
Swelling
Bruising
If you chose not to seek medical advice and treatment, you run the risk of exacerbating the foot avulsion fracture or having a longer recovery time. During your checkup, you can expect a physical exam and possibly having a radiologist take x-rays or an MRI.
How Much Is a Foot Avulsion Fracture Worth?
If you suffer a foot avulsion fracture due to negligence or carelessness from another party, it is important to understand all of your options to avoid monetary losses from current or future medical bills as well as possible wage losses. There have been many cases in the past involving foot avulsion fractures that have resulted in compensation.
Below are some examples of New York cases involving a knee avulsion fracture claim (often with other injuries), which resulted in compensation for the claimant. These cases have been handled by various law firms throughout the state and are provided for information only.
BARANTZ V. WALDBAUM'S – $368,480 Verdict

Plaintiff sustained an avulsion fracture to her right foot when she slipped and fell on a wet floor. The plaintiff's orthopedist maintained that the plaintiff sustained an avulsion fracture to the navicular bone in the foot and that traumatic arthritis as well as tendonitis has developed

THOMPSON vs. PLEASANT VALLEY TAVERN. – $55,637 Verdict

The plaintiff's podiatrist contended that the plaintiff suffered an avulsion fracture of a small bone on the side of the foot and that she will permanently suffer pain upon changes in weather or exertion.

GASCH vs. GASCH. – $110,000 Recovery

The plaintiff contended that he suffered crush fractures to several metatarsals and an avulsion injury to upper portion of the foot.

FINKELSHTEYN v. MADISON SQUARE GARDEN CENTER INC.; TWO PENN PLAZA ASSOCIATES; CITIBANK NA; BARR &; BARR BUILDERS INC. – $105,481 Verdict

A 44-year-old-male journeyman electrician suffered a fractured left foot at the calcaneal cuboid joint, an avulsion fracture of the navicular, swelling of the toes and foot, and an inflammation of the left ankle when he received an electric shock and fell from the ladder he was standing on while installing electrical cable into a box for the defendants.

CIANO v. SAUVE; DAYTON JR.; MERCEDES-BENZ CREDIT CORP. – $350,000 Verdict

A 35-year-old male web designer and musician alleged that he suffered middle cuneiform avulsion fractures to his left foot, right foot compartment syndrome, a fracture to his right ankle, requiring internal fixation, a tibia fracture, left first and second metatarsal fractures and the loss of his quality of life when his jeep was struck head-on.

LAUREL CAPRIO AND MICHAEL CAPRIO V. 1025 MANHATTAN AVENUE CORP D/B/A THE MARK BAR AND EL-TAR PROPERTIES, INC. – $310,350 Settlement

Laurel Caprio, 56, a recruiter, slipped on a puddle of water on the floor near the front door inside the Mark Bar where she sustained a displaced fracture of the lateral malleolus of the left ankle and a calcaneal avulsion fracture of her right foot.

NAPOLITANO v. SORICELLI; HARVEY BROTHERS INC. – $145,000 Settlement

A 36-year-old male alleged that he suffered an avulsion fracture to the navicular bone in his foot, and a talus fracture when he was struck by the male defendant's box truck, during the course and scope of his employment with the codefendant, at a nonparty worksite.

RUSSELL SENNETT & MARY ANN SENNETT V. DAVID HORVEILLEUR, AMANDA SMITH, & THE CITY OF NEW YORK – $790,000 Settlement

Sennett's injury included a comminuted fracture of the foot's second metatarsal, comminuted fractures of the foot's first and third cuneiforms, and an avulsion fracture of the Lisfranc ligament.

PATRICIA YNOA V. N.Y.C.T.A. – $300,000 Verdict

Patricia Ynoa, 30, a residential health aide, tripped while she was exiting the subway station that is located beneath 167th Street, in the Bronx. Ynoa sustained an avulsion fracture of the dorsal surface of her right foot's navicular bone, which is a small bone that lies on the upper portion of the foot, immediately in front of the ankle.

NATHAN CIANCIOLA V. THE STATE OF NEW YORK – $200,000 Verdict

Claimant Nathan Cianciola was operating a motorcycle on State Route 31, in Savannah. As he rounded a sharp left turn, his motorcycle struck a curb and crashed. Cianciola claimed that he sustained back, foot, rib and shoulder injuries.
Contact a Foot Avulsion Fracture Lawyer
Even a "little" foot avulsion fracture is a significant injury, and should be taken seriously. Without proper treatment this fracture can turn into a more drastic problem and could result in future issues and monetary loss. If you have any questions or would like further assistance with your avulsion fracture case, call our avulsion injury attorneys today at 888-804-5044, and we will be happy to guide you in the right direction.