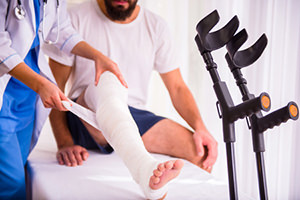 An avulsion fracture occurs when a ligament or tendon pulls away so forcefully from a bone that it takes a piece or chip of it off from the main bone. While these injuries can occur anywhere in the body, they are particularly common in the knee. There are numerous types of knee avulsion fracture injuries compared to others due to the numerous ligaments and tendons that surround the area.
If you have suffered a knee avulsion fracture, you should seek medical attention immediately. After that, if you believe your injury is due to the negligence of a third party, it may be in your best interest to speak to an avulsion injury attorney to learn about your legal options. Contact us today at 888-804-5044 to learn more and to ensure that your legal rights are protected.
How a Knee Avulsion Fracture Is Treated
Upon visiting your doctor for a suspected knee avulsion injury, he will order an x-ray or a CT scan to get a better idea of where the injury is located exactly and the severity of the injury. The prescribed treatment is dependent on the severity of the knee avulsion fracture. For a relatively minor injury in a healthy individual, treatment usually consists of bed rest and icing the affected area. Crutches may be necessary to reduce strain and speed healing. In particularly bad cases, surgery may be necessary to restore the bone to its proper place.
Knee Avulsion Fractures: Legal Options and Settlement Examples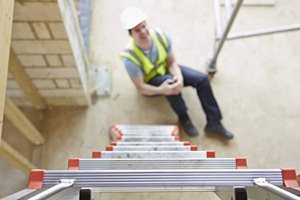 Even a so-called "small" knee avulsion fracture is a legally significant injury, especially if it is the result of a third party's negligence or carelessness. Whether that third party is the owner of a shop, a landlord, or the driver of a motor vehicle, you may be entitled to compensation for medical bills, lost wages, and future medical bills accrued as a result of long term problems due to the knee avulsion fracture.
Below are some examples of New York cases involving a knee avulsion fracture claim (often with other injuries) that resulted in compensation for the claimant. These cases have been handled by various law firms throughout the state and are provided for information only.
CURRLIN vs. BYER. – $500,000 Verdict

The plaintiff contended that she sustained a severely comminuted avulsion fracture of the right patella, a severely comminuted intra-articular fracture of the right medial and lateral malleolus, a linear fracture to the nasal septum, and a fracture through the distal aspect of the left fifth metacarpal bone.

CLOTTER v. METROPOLITAN TRANSPORTATION AUTHORITY; NEW YORK CITY TRANSIT AUTHORITY – $2,900,000 Verdict

A 45-year-old female factory worker alleged that she suffered a right knee avulsion fracture and a tear of her right quadriceps tendon that required internal fixation and resulted in permanent impairment and the inability to return to her former occupation when she tripped and fell on a stairway at the defendants' subway station.

JAYNES v. WILKENS; WILKENS; MCPARTLAND, PRO AMI; MCPARTLAND; CHASE MANHATTAN AUTOMOBILE FINANCE CORPORATION – $925,000 Settlement

A 28-year-old female alleged that she suffered an avulsion fracture of her right tibia and fibula, right peroneal nerve palsy, torn anterior and posterior cruciate ligaments of her right knee, a closed head injury, facial scarring, a pelvic fracture, a left humerus fracture, right sacroiliac joint disruption, right knee dislocation, respiratory failure with loss of consciousness, internal fixation and surgical scarring when she was walking in an unmarked crosswalk and was struck by the male codefendant's vehicle that was operated by the female defendant.

KHODER FARHAT V. CARL NORMAN AND MYSTIC TANK LINES – $650,000 Settlement

Plaintiff Khodr Farhat, 34, a flea market's vendor, was struck by a truck. Farhat sustained a displaced, Schatzker II fracture of the lateral portion of his left leg's tibial plateau, which is the shin. A Schatzker II fracture involves splitting and depression of the shin bone. Farhat also sustained fractures of ribs and an avulsion and full detachment of his left knee's lateral meniscus.

M.M., PRO AMI, MOORE v. BED BATH & BEYOND INC. – $120,000 Settlement

M.M., a male infant, reportedly suffered severe and deep avulsion of his left leg and knee with extensive shredded irregular avulsion laceration of the tissue and injury to underlying musculature and eventual scarring when he slipped on a wet aisle floor and cut his left leg on broken, sharp metal shelving at a store owned, managed and controlled by defendant Bed and Bath Inc.

BLANCO v. MANHATTAN & BRONX SURFACE TRANSIT OPERATING AUTHORITY – $110,000 Verdict

A 23-year-old legal secretary suffered an avulsion tear of the anterior cruciate ligament, requiring arthroscopic surgery and internal fixation; a torn medical meniscus; and osteoarthritis of the knee when the bus, owned and operated by the defendant transit authority, started up as she was entering, causing her to lose her balance.

MAFFUCCI v. SALEM TRUCK LEASING CO., INC.; ATLAS GAS AND SERVICE CORP.; PRADOS – $245,800 Verdict

A 23-year-old female X-ray technician suffered a torn medial meniscus of the right knee with an avulsion injury, postconcussion syndrome, and a forehead laceration when her vehicle was involved in a collision with the defendant's truck.

SOOLOTOFF v. HARTMAN – $290,000 Settlement

A 13-year-old male suffered torn and avulsed knee ligaments requiring reconstructive surgery after he was a passenger in the defendant driver's vehicle when it struck a telephone pole.

DALEY v. RAMADA RENAISSANCE HOTEL – $218,000 Verdict

A 53-year-old male part-time maintenance worker suffered a displaced left patella, an avulsed left patellar tendon, chondromalacia, and traumatic degenerative arthritis after he fell in the defendant hotel.

TRIPPI v. HERMAN – $58,000 Settlement

A 23-year-old female respiratory therapist sustained multiple injuries when she was struck by a car as she attempted to cross a six-lane highway. The plaintiff suffered a fractured fibular neck, fractured pelvis, fractured interior pubic ramus, an avulsion fracture of the distal femur, and a nasal fracture.
Contact a Knee Avulsion Fracture Lawyer About Your Case
If you have suffered a knee avulsion fracture, contact us today at 888-804-5044 to learn about your options for legal recourse. We will put you in touch with a skilled avulsion injury attorney that can help you understand your rights and can guide you through the process of filing a personal injury case for your knee avulsion fracture.